This post is full of birthday gift ideas for 21st birthday girls this year!
Celebrating a girl's 21st birthday is one of the most exciting times of her life!! So I can totally understand that you're wanting to make it special by getting her something other than the traditional 21st birthday presents like a bottle of wine or a shot glass…??
I got some really memorable gifts for my 21st birthday and I've bought plenty of birthday gifts for friends' 21st birthdays recently, so I'm going to share with you the best of the best!
Ive included everything from 21st birthday gift ideas for best friends, all the way to parents, boyfriends, and even last minute 21st birthday gifts she will still LOVE.
This post is all about birthday gift ideas for 21st!
This post contains affiliate links. You can read our full disclaimer here.
Birthday Gift Ideas for 21st Birthday Girls
Best 21st Birthday Gift Ideas for Best Friend
#1. Criss-Cross Sports Bra-Tank-in-1
Buy on Amazon.
These bra-tanks are seriously all the rave right now in the girl world!! The criss-cross look is so cute and appealing and it's super nice to be able to wear a breathable top to the gym that's also a bra, so you don't have to wear both. Your 21-year-old bestie will absolutely love one of these! And they offer the cutest colors.
#2. "Finally 21" Sash and Crown
Buy on Amazon.
It's her 21st birthday! I'm sure she's ready to go out and let it be known by the world! Buy your gal a sash and crown to make the night even more special to her. 🙂
# 3. Personalized Gold Necklace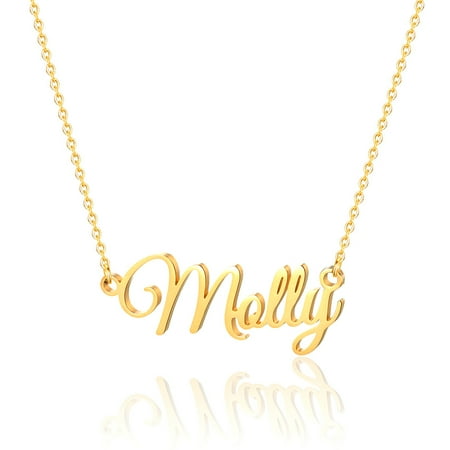 Buy on Walmart.
These personalized name necklaces have started becoming insanely popular over the past several months!! They're so cute and they go with any outfit. — Nothing says "thinking of you" on your birthday like a personalized gift!!
Buy on Amazon.
For the 'Friends' loving 21-year old! A wine glass is always a good gift to ring in your 21st birthday!
Buy on Amazon.
Gahhh who doesn't just love Crocs?! They're so dang comfortable and you can wear them for so many different circumstances: gardening, walking around the neighborhood, taking the dog on a potty break, to the gym, or literally just to the grocery store! Every girl is loving Crocs these days (which I totally still can't believe because they were so popular back when I was just a kid and now they've made their comeback!!)
Buy on Amazon.
As females, we LOVE alllll the little happies on our birthday.. Especially a smell-good happy that literally tells us happy birthday! You can't go wrong with getting her this adorable candle.
Best 21st Birthday Gift Ideas for Girlfriend from Boyfriend
# 7. Cozy Open Toe House Shoes
Buy on Amazon.
These toeless house shoes are growing more and more popular by the day! They're especially perfect for the warmer months when you don't want to walk around the house barefoot, but you don't want to sweat.
Buy on Amazon.
How adorable is this anklet?! I love that anklets are coming back in style! And it's even more perfect that it has her initial on it.
Buy on Amazon.
A furry throw is the perfect gift for any 21-year old girl who is just starting to build her own home! Every home needs one of these fluffy blankets for cuddling up on movie nights!
Buy on Amazon.
These are sure to win you boyfriend of the year award. 😉 Women love a good pair of fancy pjs because we can still feel cute while being extra comfortable.
# 11. Brumate Insulated Can Cooler
Buy on Amazon.
The perfect 21st birthday gift for girls who enjoy beverages in tall cans (AKA Michelob Ultra or Truly/White Claws.) These insulated mugs really do keep your drink cold for hours and hours… even if you're on the beach or the lake! We literally left one in the hot car one time for hours and came back and the drink was still cold. 10/10 recommend.
Best 21st Birthday Gifts from Parents
# 12. Mother Daughter Necklace
Buy on Amazon.
My mom got me one of these necklaces for a birthday a few years ago and I can't tell you how special it is to me. Every time I wear it I think of her and feel like she's right there with me. Tear-jerker, for sure.
 Buy on Amazon.
If your gal loves to garden (or ever even needs to pull a weed or two), she will seriously thank you for this unique gift!! The seat moves up and down so you can use it to kneel or sit on! I'm definitely putting this on my personal wish list haha. 
# 14. Waterproof Bluetooth Shower Speaker
Buy on Amazon.
For the shower-singing 21st birthday girl! This is the perfect gift because if she's anything like me… She brings her phone in the shower to listen to music or a podcast and ends up getting water all over it.? (No bueno.)
# 15. Lightweight Fashion Sneakers
Buy on Amazon.
These sneakers are made of cloud foam material so they're SUPER comfortable but also incredibly fashionable! Your gal will love wearing these with her scrubs, yoga pants, or shorts!
Buy on Amazon.
This is one of my absolute favorite gifts for 21 years old girls, especially if they're in college! The vintage look is super popular in 2022 and the backpack has a space for your laptop to safely fit, which is great for any ladies who ever carry around a laptop.
# 17. Temperature Control Smart Mug
Buy on Amazon.
Holy moly are these warmers amazing… Say goodbye to cold coffee! Such a practical gift that you'll never regret buying her because she will literally use it EVERY day more than likely.
Last Minute 21st Birthday Gifts
# 18. Amazon Gift Card
Buy on Amazon.
No-one will ever be mad at you for getting them an Amazon gift card.? You can literally get anything on Amazon these days, so she can buy whatever she wants. If you don't have time to purchase one online and wait for it to come in, remember that your local Kroger/grocery store probably has them! (Just maybe not these cute birthday cake ones.)
# 19. An Audible Subscription
Buy on Amazon.
The perfect gift for any 21 year old birthday girl who loves to listen to books! Audible is the newest way to have books on the go… And it's perfect for gals who prefer to listen, rather than actually reading the book hands-on! You can buy her a subscription for a year and she will be set to go!!
# 20. Massage Gift Card
You can get a massage gift card for a last minute 21st birthday gift at any local masseuse! If you don't have time to go out and get one, try Googling massage therapists in your area and you can probably buy an e-giftcard to print off! Any 21-year old girl would love a massage to release tension and stress from work/school.
# 21. Amazon Prime Membership
Considering your 21-year old birthday girl is probably either in college or is just getting started up in her career, she may not have the funds to pay for the luxury of Amazon Prime on her own… so this is an awesome 21st birthday present for girls!
# 22. Cash
You absolutely can't go wrong with sticking some cash in a card for a 21-year old girl. Period. ?
# 23. DIY Goodie Basket
Go to your local store… Buy a basket and several small goodies (like her favorite candies, gum, a yummy drink, a bath bomb, lotion, makeup, a DVD, and a birthday card.) Arrange all the goodies in the basket, and just trust me when I say you'll absolutely make her day!!
# 24. Homemade Coupons
Make a homemade coupon OR coupon book for them. — You can make them a massage coupon, "one free car wash" coupon, "one free dog wash" coupon, a coupon for cleaning their house…. Really anything you can think of that they wouldn't want to do (or can't do) themself! They pick the day, and you do it for them. 🙂
Just get a piece of paper and write out what the coupon is on it… (decorate it a little) and stick it in an envelope! Easy peasy and she'll absolutely love it. Perfect birthday gift for busy 21-year-old girls.
Funny 21st Birthday Gifts
# 25. "The Comfy" Wearable Blanket
Buy on Amazon.
Don't even get me started on how amazing these are!!! Every 21-year-old girl loves wearing these while their snuggled up binge-watching their favorite show or even studying.
Buy on Amazon.
Such a cute gift for girls turning 21 in 2022! Every girl can always use more makeup bags because they get dirty so easily… And she can use them for so many different things, from holding writing utensils to holding first-aid materials!
# 27. "Not a Day Over Fabulous" Birthday Tea Mug and Spoon
Buy on Amazon.
This is such a practical gift for 21 year old girls to use on those long nights studying! And this isn't a super common gift. — Lots of girls have plenty of coffee mugs, but not necessarily tea mug specifically (with a lid to steep her tea!) So so cute.
Sentimental 21st Birthday Gifts for Her
# 28. Milestone 14K Gold Bracelet
Buy on Amazon.
21 beautiful beads for your beautiful 21-year old girl! Such a sweet and memorable gift for such a big birthday.
# 29. Mother and Daughter Memory Box
Buy on Amazon.
I would literally cry if I got this. She can stick notes from her mom or pictures inside of it! Or even jewelry… anything meaningful that reminds her of her mom.
Buy on Amazon.
My mom did this for me for one of my birthdays (I believe my 25th) and she wrote out all of our special family recipes, including her own. She bought one of these cookbooks to fill out and has all the recipes categorized so they are easy to find!
This cookbook will forever mean the world to me, so I know it will for the girl you're buying for as well.
# 31. (BONUS) A T-Shirt Blanket
I don't have a photo of my t-shirt blanket to share, but basically envision having all of her t-shirts from her childhood sewn together into a blanket! My mom did this for both me and my brother and they are beyond special to us!!!!
We hope you enjoyed this post about birthday gift ideas for 21st!